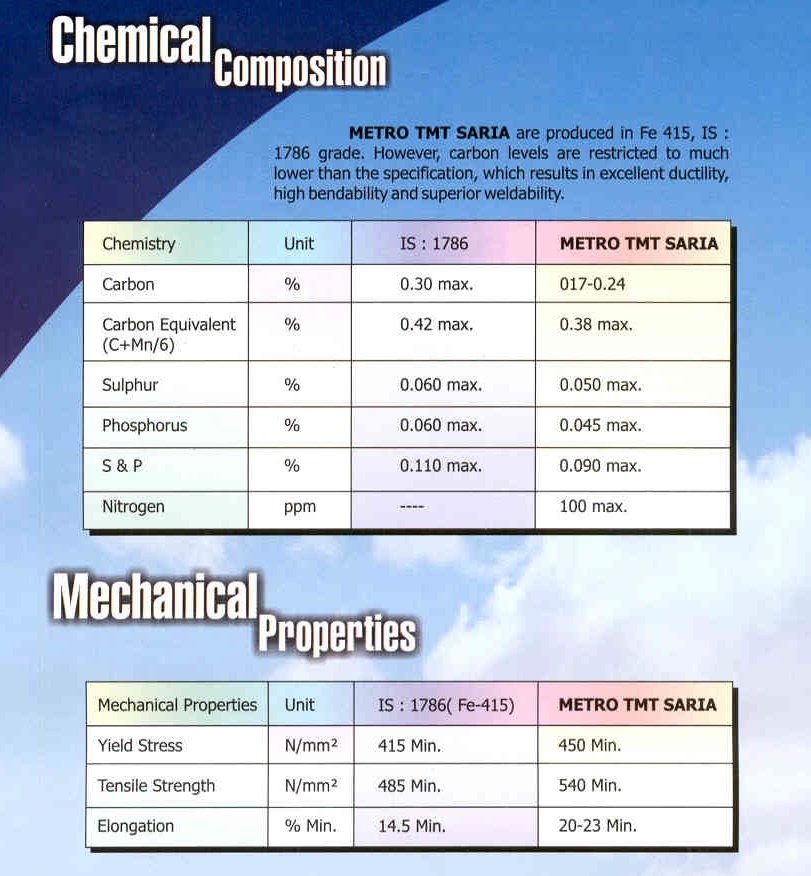 Metro TMT SARIA has been specially designed to provide unbeatable bond strength to the surrounding concrete. While the standard specification declares the bond strength to be 40% higher than plain steel bars, METRO TMT SARIA strength is way beyond such specified limits, that is 100-200% higher than the mild steel bars.
With excellent bending ability, Metro TMT SARIA is one of the most advantageous steel bars to be used at a construction site.
With its low carbon equivalent, Metro TMT SARIA has superior weldability than conventional cold twisted bars. Butt-welding or lap-welding of Metro TMT SARIA is possible using ordinary electrodes.
With higher resistance to corrosion and rust, Metro TMT SARIA has become one of the most suitable construction bases in smaller as well as bigger construction projects.
High
Temperature Resistance
METRO TMT SARIA restrains more than 80% of its ambient temperature strength at even 300 degree Celsius while 40% strength at 500 degree celsius.
Seismic
Resistance Properties
With respected to the studies conducted on concrete beam column joints reinforced with METRO TMT SARIA to evaluate its performance under repeated reversed loading with in-elastic strains as would be encountered during an earthquake, outstanding results have been achieved. The energy dissipation is found to be almost same for each cycle that shows its superior seismic resistance properties.